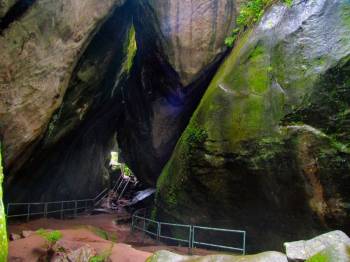 On the final day of your Tour have breakfast. check out and proceed for Sightseeing
1. Wayanad Wildlife Sanctuary - Muthanga
Wildlife
Duration of visit: 2-3 Hours
Timings: 7 AM - 10 AM and 3 PM - 5 PM
Entry Fee: Rs. 110 for Adults, Rs. 40 for Children, Rs.300 for Foreigners, Rs. 38 for Camera, Rs. 225 for Video Cam & Rs. 600 for Jeep (Max 7 persons)
At a distance of 14 km from Sulthan Bathery and 39 km from Kalpetta, Muthunga Wildlife Sanctuary, also known as Wayanad Wildlife Sanctuary, is a sanctuary and Elephant Reserve in the Wayanad district of Kerala. It is one of the top places of wildlife in Kerala, and among the best places to visit in Wayanad.
2. Edakkal Caves
Historical & Heritage
Duration of visit: 2 Hours
Timings: 9 AM to 4 PM (Closed on Mondays)
Entry Fee: Rs. 20 for Adults, Rs. 10 for Children, Rs. 40 for Foreigners, Rs. 30 for Camera & Rs. 150 for Video
At a distance of 6 km from Ambalavalayal, 14 km from Sulthan Bathery, and 28 km from Kalpetta, Edakkal Caves are two natural caves located on top of Ambukutty Mala near Ambalavalayal in Wayanad. It is one of the popular places of heritage in Kerala, and among the must-include places in Wayanad tour.
Situated at an altitude of 4000 feet, Edakkal Caves were discovered by Fred Fawcett, the then Superintendent of Police of the Malabar district in 1890, during his hunting trip to Wayanad. The name 'Edakkal' literally means 'a stone in between'. Here one can see a cave formed by a heavy boulder straddling a fissure in the rock. This heritage site is considered one of the prime Wayanad places to visit, especially for history buffs.
Many legends are there behind the formation of Edakkal caves. According to one...
3. Wayanad Heritage Museum
Museum & Gallery
Duration of visit: 30 Mins
Timings: 10 AM to 5 PM
At a distance of 11 km from Sulthan Bathery & 5 km from Edakkal Caves, 22 km from Kalpetta, Wayanad Heritage Museum is located in Ambalavayal village.
This is one of the best heritage museums in Kerala. The museum houses fascinating items from tribal communities dating back to the second century AD. It has a rare collection of several ancient instruments & tribal artifacts like jewellery, hunting and fishing weapons, farming instruments, a fine collection of 14th - 16th century sculptures, etc. Ancient terra cottas, stone weapons and local art are also on display at the museum.
A series of pictorial rock edicts referred to as Hero Stones, memorialize a bygone age of warriors. There is a fine figure of the Goddess of fertility, Urvara, also displayed here. Most of the artifacts are collected from the Wayanad and surrounding regions.
The museum is spread in two levels with statues occupying lower level while the tribal artifacts are displayed in first level. And Your tour ends today here In Wayanad with All your sweet memories... And Return Bangalore Drop OFF...