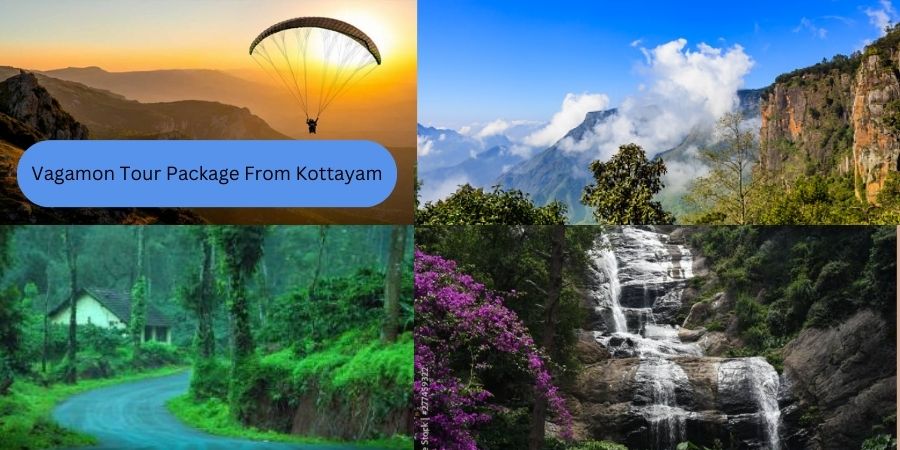 Nestled amidst the picturesque landscapes of Kerala, the tranquil hill station of Vagamon beckons travellers with its serene beauty and captivating charm. Offering respite from bustling city life, Vagamon is a haven for nature lovers, adventure enthusiasts, and those seeking solace in the lap of Mother Nature. With our specially curated Vagamon tour package from Kottayam, embark on a journey to this hidden gem and immerse yourself in its breathtaking vistas and enchanting experiences.
The Vagamon tour package from Kottayam offers a perfect blend of natural beauty, adventure, and spiritual tranquility. Escape the ordinary and discover the extraordinary in this hidden gem of Kerala. With its misty hills, verdant meadows, gushing waterfalls, and warm hospitality.
How to reach Vagamon?
Your Vagamon adventure begins as you arrive in Kottayam, where our expert tour guide will greet you and accompany you on a scenic drive to Vagamon. The road trip itself is a delight, as you traverse through winding roads flanked by tea gardens, dense forests, and mist-covered hills. Upon arrival in Vagamon, check into your comfortable accommodation and take some time to relax and soak in the serene ambience of the hill station.
Reasons to select the Vagamon tour package from Kottayam
Exploring the Scenic Delights
Wake up to a refreshing morning in Vagamon and get ready to explore its natural wonders. Start your day with a visit to the famous Vagamon Meadows, also known as the "Mottakunnu." The sprawling green meadows, adorned with vibrant flowers, offer panoramic views of the surrounding valleys and hills. Take a stroll, capture memorable photographs, and simply bask in the tranquillity of this idyllic spot.
Next, head to the enchanting Pine Forest, where tall pine trees form a captivating canopy. The gentle breeze rustling through the trees creates a soothing ambience, perfect for a serene walk or a picnic amidst nature's embrace.
Adventure and Spiritual Bliss
On day three, get ready for an adventure-filled day in Vagamon. Kick-start your morning with a thrilling trek to the Vagamon Kurisumala. This iconic hill, crowned by a Christian pilgrimage centre, offers breathtaking views of the entire region. The trek itself is a rewarding experience as you traverse through lush green forests, meandering trails, and meadows. Reach the top and soak in the spiritual aura while enjoying the panoramic vistas of the surrounding hills and valleys.
In the afternoon, indulge in some adrenaline-pumping activities such as paragliding or rock climbing. Feel the rush of excitement as you soar high above Vagamon, taking in the bird's-eye view of the enchanting landscapes below. If adventure sports are not your cup of tea, you can opt for a peaceful nature walk or visit the nearby tea plantations, where you can learn about the art of tea cultivation and sample freshly brewed tea.
Farewell to Vagamon
As your Vagamon tour comes to an end, bid farewell to this tranquil paradise with a heart full of cherished memories. After breakfast, check out from your accommodation and embark on the return journey to Kottayam. Reflect upon the mesmerizing landscapes and unforgettable experiences you had during your time in Vagamon.