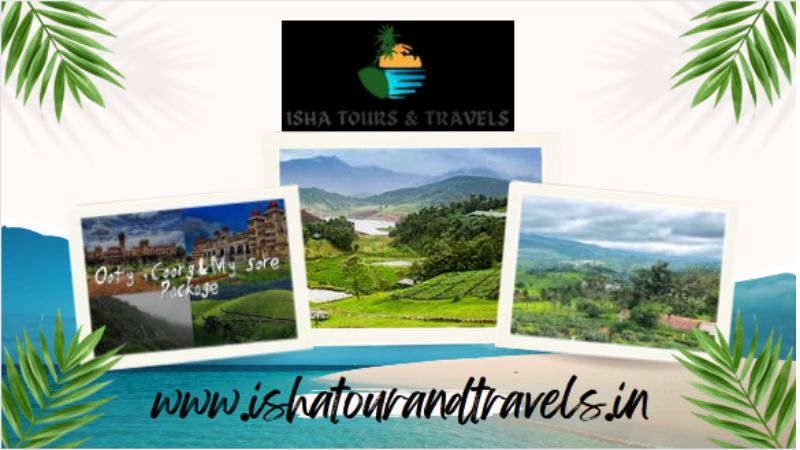 Ooty is a small town in Tamil Nadu. It is 86 km from Coimbatore and a popular hill station located in Nilgiri Hills. Ooty has cool weather and has several sightseeing places to visit and admire. Ooty has a lively and excellent experience that gives lifetime memories.
The Ooty is famous for its blue hills and greenery and green tea plantations, pine trees, and waterfalls. Ooty is generous with plentiful natural vegetation that is the most beautiful in the state. However, this place is widely famous for newly wedded couples and adventurous activities help couples to spend time with them. Several Travel agents offer excellent Ooty Coorg Mysore honeymoon packages at affordable rates.
However, Coorg is a rural district of Karnataka adjacent to Ooty. Coorg is famous for its coffee plantation and also for its natural beauty. This place is famous for being one of the most visited travel destinations for seeking natural beauty. Mysore is also one of the neighboring cities of Kerala and Tamil Nadu. Mysore is renowned for sandalwood and rosewood, stone sculptures, and its mind-blowing silk sarees.


Best time to Visit
The best time for visiting for Honeymoon to these places is between October to March. However, Coorg can be visited around the year. Coorg and Ooty can be visited for a 2-day trip each. There are plenty of sightseeing and other adventurous activities. However, Mysore can be stayed for not more than 3 days. Several palaces, gardens, and tourist attractions are present in Mysore.
Therefore, newly wedded couples can plan for a week for the Ooty Coorg Mysore honeymoon package. Several travel agents are offering excellent properties and complimentary breakfast with it.
Places to visit
Mysore is famous for Mysore palace which was the residence of the royal family of Mysore. Mysore Palace is an excellent example of architecture. It is one of the most popular and renowned tourist attractions in the country. Brindavan Gardens, Mysore Zoo, Karanji Lake, and Somnathpura Temple are famous for sightseeing.
So it is suggested that for visiting these places the journey should be started from Mysore and ends in Ooty. However, in Coorg, several places like Omkareshwar temple, Bhagamandala, and abbey fall with coffee plantation gardens.
Ooty is famous for rose gardens and natural beauty that includes doddabetta Peak, a botanical garden, and Ooty Lake.
How to Reach
The nearest place to reach Mysore is through Bangalore International Airport. Mysore is well connected with roads, railways, and airports. Mysore railway station is well-connected with all major cities of India. So, this tour package starts from Mysore and then by road to Coorg and then to Ooty. Coimbatore international Airport is nearest airport to to Ooty.
So, we can conclude that if you are a newly wedded couple, then you must visit these beautiful places and experience them for a lifetime. These beautiful places will give us time couples to spend with each other and mesmerized by the beauty of nature. There are several lakes, gardens tea- coffee plantations, and falls that will hold you back to stay for more. There are plenty of activities that can be experienced in such places.