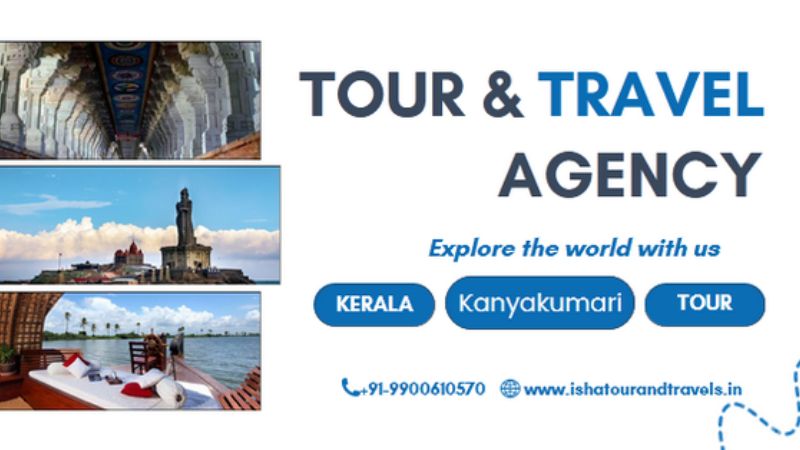 A special fusion of scenic beauty, historical culture, and adventurous activities can be found in Kerala with Kanyakumari tour packages. Listed below are a few of Kerala's top attractions when combined with a trip to Kanyakumari:
Discover Kerala's Backwaters
Kerala is well known for its picturesque backwaters. It provide a singular experience of cruising along the canals and lagoons, surrounded by lush vegetation and charming villages. To discover Kerala's backwaters, you can go on a houseboat tour or a canoe tour.
Enjoy Kanyakumari's Beaches
The Kanyakumari Beach, the Sanguthurai Beach, and the Sothavilai Beach are just a few of the spotless beaches in Kanyakumari. The southernmost point of India offers opportunities for water sports, beach relaxation, and sunset viewing.
Check Out Kerala's Hill Stations
A number of hill stations in Kerala, including Munnar, Wayanad, and Thekkady, provide scenic splendour and adventure activities. These include hiking, camping, and animal safaris.
Experience Kerala's Cultural Heritage
Kerala has a vibrant cultural history that includes traditional dances, music, and festivals. You can go to celebrations like Onam, Vishu, and Thrissur Pooram and see performances of classical dances like Kathakali, Mohiniyattam, and others.
Explore Kanyakumari's Historical Monuments The Vivekananda Rock Memorial, the Padmanabhapuram Palace are just a few of the historical sites that Kanyakumari has to offer. These sites highlight the region's rich history and cultural diversity.
Kanyakumari Tour Packages, Costs And Budgeting
The price of Kerala with Kanyakumari tour packages are influenced by a number of variables. These include the length of the trip, the accommodations used, the mode of transportation, and the experiences and activities offered.
Listed below is a general cost estimate and suggested budget for tour packages that combine Kerala and Kanyakumari:
Cost Of Lodging
Depending on the hotel or resort you pick, the cost of lodging varies in Kerala and Kanyakumari. The cost of a night at a luxury resort can be as high as INR 10,000. While that of a night at a cheap hotel or homestay might range from INR 800 to INR 2000.
Expense Of Food And Beverages
The price of food varies in Kerala and Kanyakumari based on the cuisine and restaurant you select. While meals at restaurants can cost anywhere from INR 200 to INR 500 per person, local street food can cost anywhere from 50 to 100.
Transportation Expenses
Depending on the form of transportation you pick, transportation costs in Kerala and Kanyakumari vary. While private taxis and cars can be more expensive, local buses and trains are the most affordable options. An entire day's worth of travel in a cab can run between INR 2000 and 3000.
Activities And Admission Charges
Kanyakumari and Kerala each have different entrance prices for their tourist sites. It can cost between INR 100 and 500 per person to visit popular destinations.
These include the beaches, museums, and Kerala's backwaters. Adventure sports, riding an elephant, and boat rides might run you anywhere from 500 to 2000 Indian rupees per person.
Conclusion
The greatest time to visit Kerala is in the winter because of its tropical temperature. The weather is warm and dry from December through February. The best time to visit Kanyakumari is in the winter or during the monsoon season because of its coastal climate. Kanyakumari & Kerala vacation packages provide a comprehensive and enjoyable travel experience that has something for everyone.